MLK Bust
A "DREAM" IN ANSONIA
FOR THE 50TH ANNIVERSARY OF DR. KING'S ASSASSINATION APRIL 4, 2018

Our Mission Statement:  To place a bust of Rev. Dr. Martin Luther King, Jr. in front of the Ansonia City Hall.  To memorialize the transformative legacy of Rev. Dr. Martin Luther King, Jr., and to inspire the Ansonia community and surrounding Valley communities with love, equality, justice, and compassion for all Valley residents.

This is the time for such a time as this.  When our beloved and divided America is in desperate need of a renewed spirit to uplift our dwindling greatness.  Rev. Dr. Martin Luther King, Jr. was an advocate and often spoke of equality and justice for all people.  His enduring legacy touches the lives of all Americans today.  The people of the Valley and surrounding communities will be honored to represent the ideals of a united America.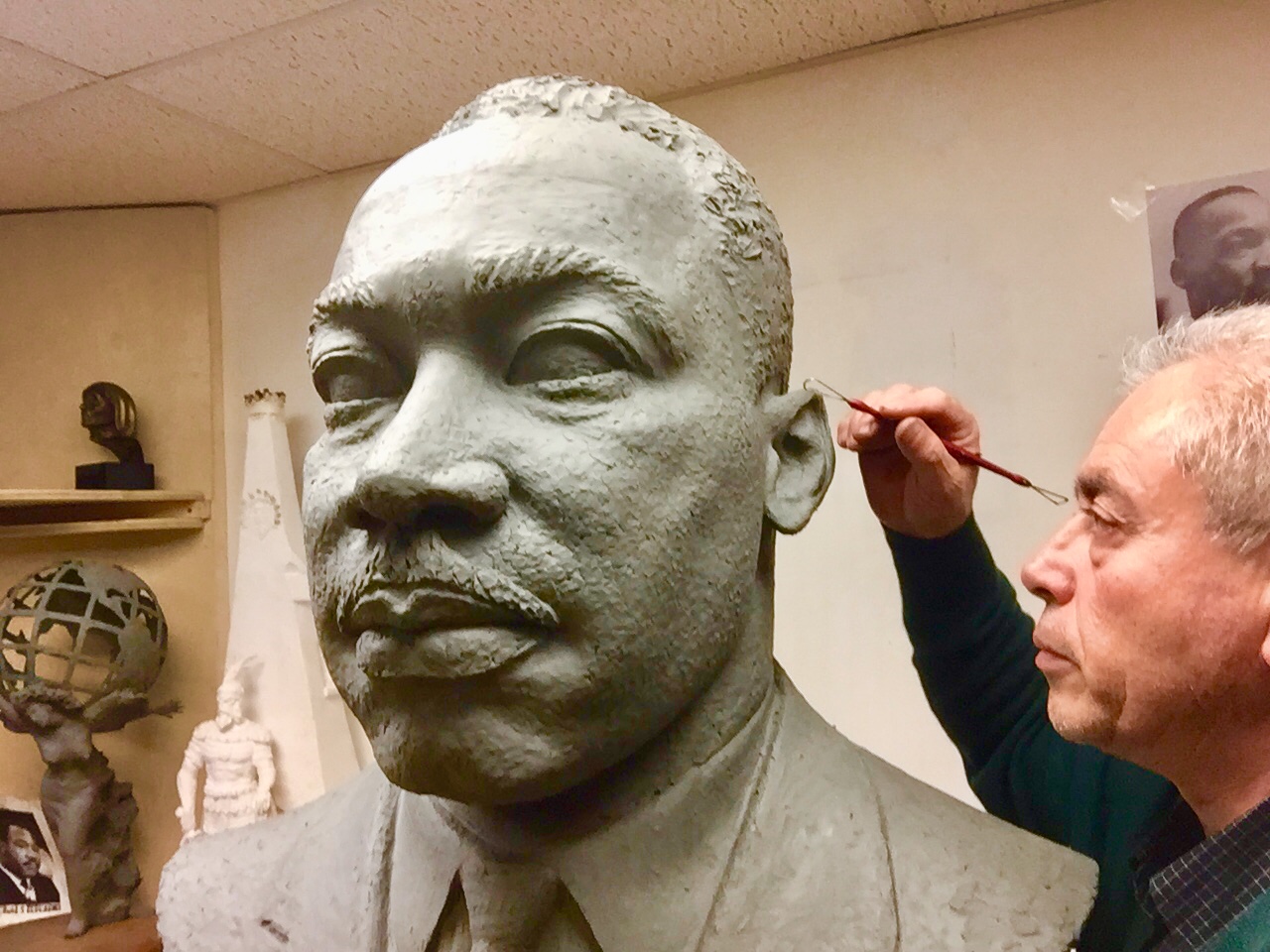 Vasil Rakaj, a local sculptor was born in Boga, Albania.  He attended the prestigious Academy of Fine Arts.  Vasil was commissioned to sculpt a six foot tall, bronze statue of St. Mother Teresa in 1996.  He came to the United States in 1998 for the celebration and dedication of four installations of that same piece.  He is an international talent whose works have appeared in the White House, Buckingham Palace, The United Nations, and The Vatican.  Vasil currently resides with his family in Ansonia and is an active member of the Valley Arts Council.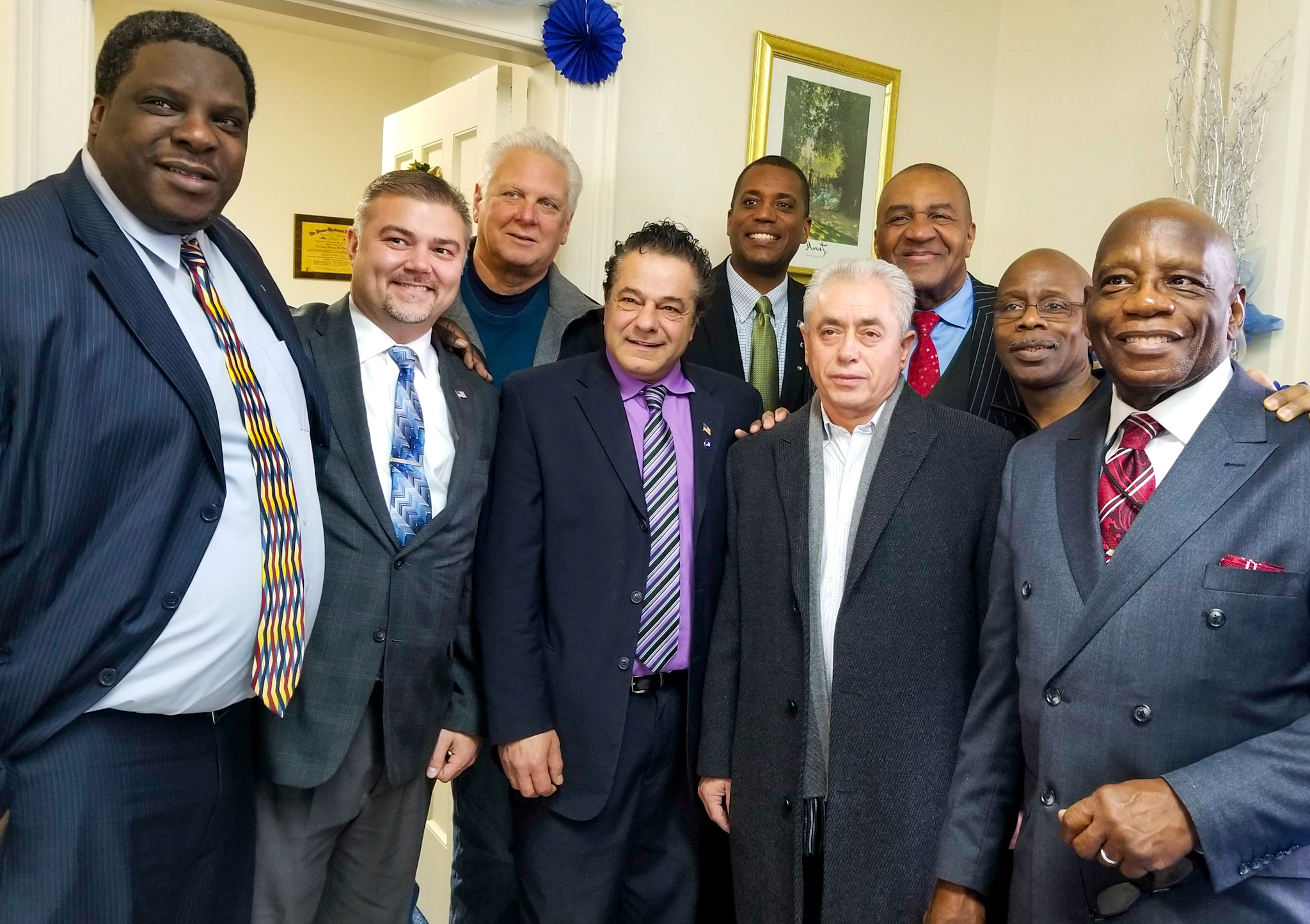 Photo at Rev. Dr. Martin Luther King, Jr. Day Celebration held at the Macedonia Baptist Church of Ansonia, compliments of Melissa Nunez, www.ValleyIndy.org (L-R) Valley NAACP President Gregory Johnson, Ansonia Aldermen Joseph Jaumann and Lorie Vaccaro, Ansonia Mayor David Cassetti, State Senator George Logan, local sculptor Vasil Rakaj, Keynote Speaker and Macedonia Baptist Church Senior Pastor Alfred L. Smith, Jr., Deacon Dave Gatison of Macedonia Baptist Church, and Williams Temple C.O.G.I.C. Pastor Samuel Levey.
It is our hope that our citizens, businesses, and friends will support this effort to show our unity, strength, and community values through this united endeavor.  Working together as a team, we will see the Dream of a Dr. King Bust in front of City Hall in Ansonia, Connecticut.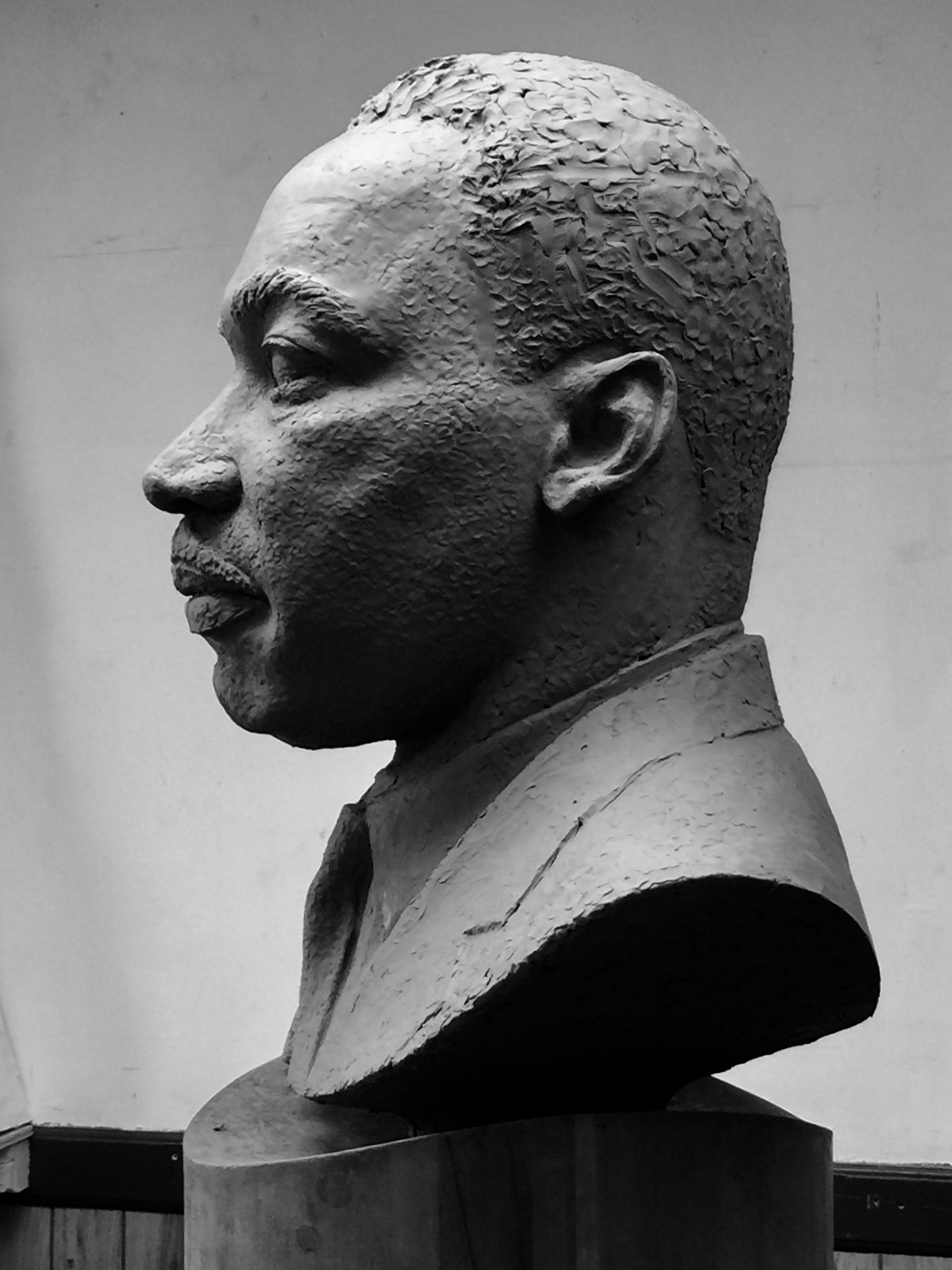 While there is much more work to do for Vasil and the Ansonia Dr. King Bust Committee to complete this community project, please join us and support the project to place a bust of Dr. King in Ansonia.  Only one other city in all of Connecticut has one.
To donate by card: Please click on the Donate button below.
To donate by check: For a tax deduction contribution, you can donate by check made payable to TEAM, Inc. with Dr. King Bust written on the memo line.  All checks should be addressed to P.O. Box 119,  Ansonia, CT  06401.
After you have donated or viewed this information, please share with your contacts and those who might want to contribute.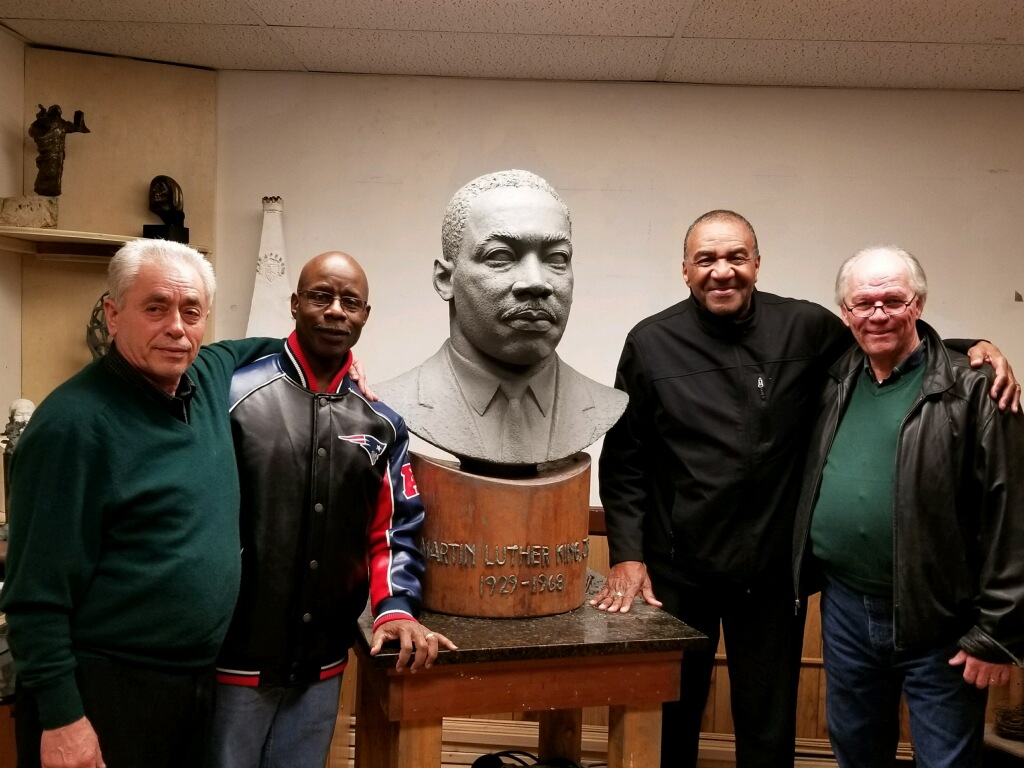 L-R Vasil Rakaj-Sculptor, Deacon Dave Gatison, Pastor Alfred L. Smith, Jr., Dr. John Hinson-Pastor of First Baptist Church of Ansonia.  (Missing) City of Ansonia Mayor David Cassetti, Minister Bruce Goldson.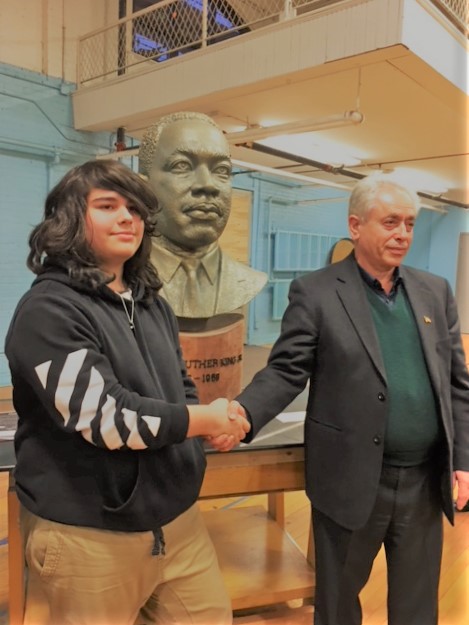 Brandon Richards (left), One of three winners for their essay on Dr. King, he initiated the idea for this project when he spoke to a full house at Macedonia Baptist Church for a Rev. Dr. Martin Luther King, Jr. Day Celebration.  Vasil Rakaj (right), local sculptor with international acclaim.
Many THANKS to all who attended or supported the "CELEBRATION OF A KING" Fundraiser sponsored by the Ansonia Dr. King Bust Committee to commemorate the 50th Anniversary of Dr. King's Assassination.  The Event was held on April 4th at the Ansonia Armory, 5 State Street from 6:00 PM to 8:00 PM.  There was an unveiling of a likeness of the statue to be erected in front of the Ansonia City Hall, with a raffle, guest speakers, music, & more.
UPDATE:  The Bust itself is presently in the process of being bronzed.  We have yet to procure the black granite base that the bust will be set atop, and to construct the footing that the base would be set in.  Our plans call for a plaque to be mounted adjacent to the bust with lighting installed for both.  We will finish it with appropriate landscaping.  We realize that this is an aggressive plan with the 50th Anniversary of Dr. King's assassination just passed on April 4th, 2018.  We are calling upon the Valley & surrounding communities to unify in this worthy endeavor by offering financial support, then communicating our efforts to all of their contacts who may be interested in supporting.
Delicious Ziti & Meatball Dinners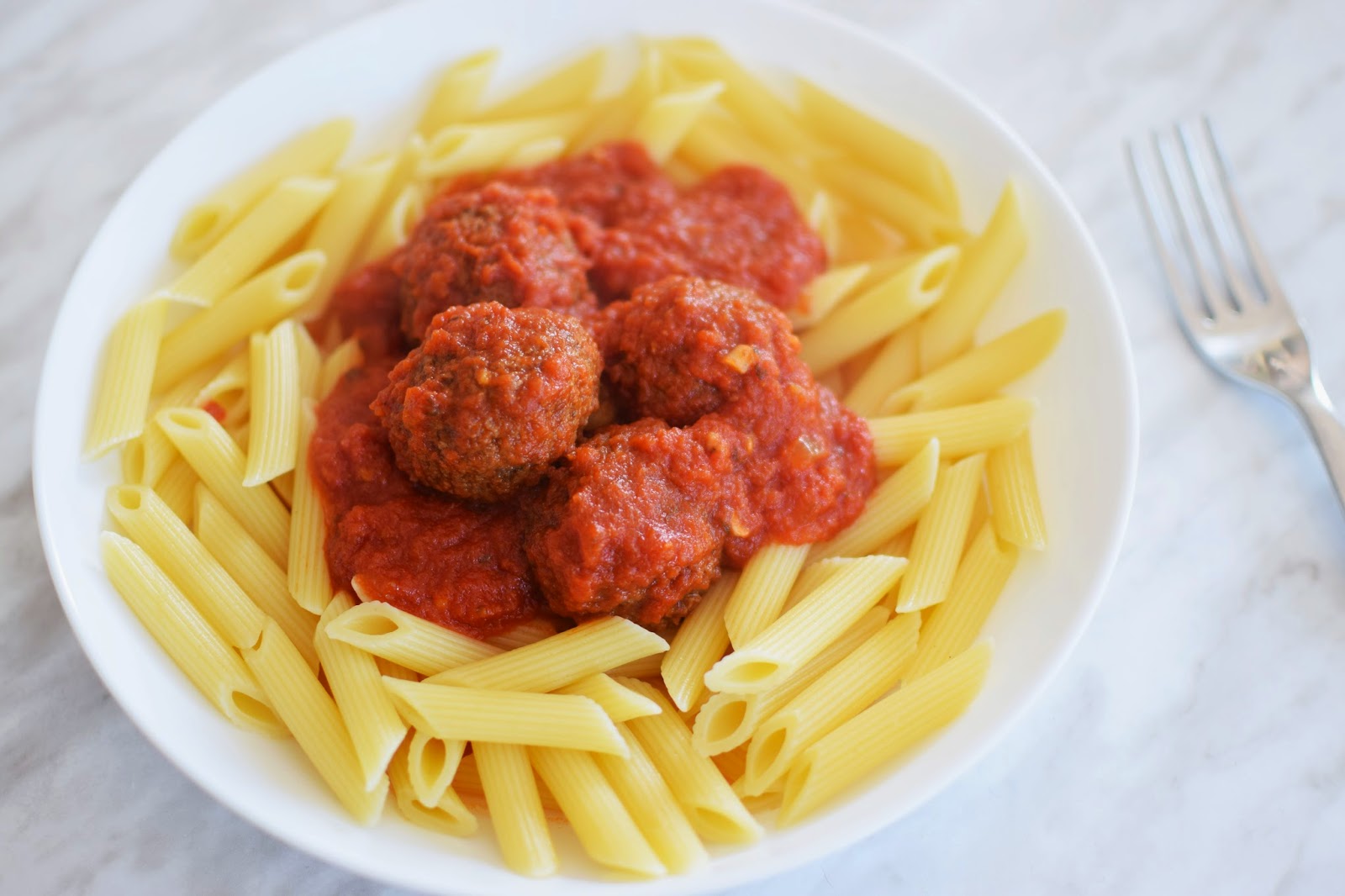 The Ansonia Dr. King Bust Committee invites the Public to a special Ziti & Meatball Dinner being held Saturday July 14th at 1 PM at the Abundant Life Fellowship Ministries Church located at 195 North Main Street in Ansonia, CT.
The Fundraising dinner will help to reach the goal of completing the bust project, by placing the bust honoring Dr. King in front the  Ansonia City Hall.
Do you know someone who would enjoy a hot ziti & meatball dinner without having to cook or clean?  You can donate and support at the same time.  Help us to show the Valley, Connecticut, and America that we can respect each other.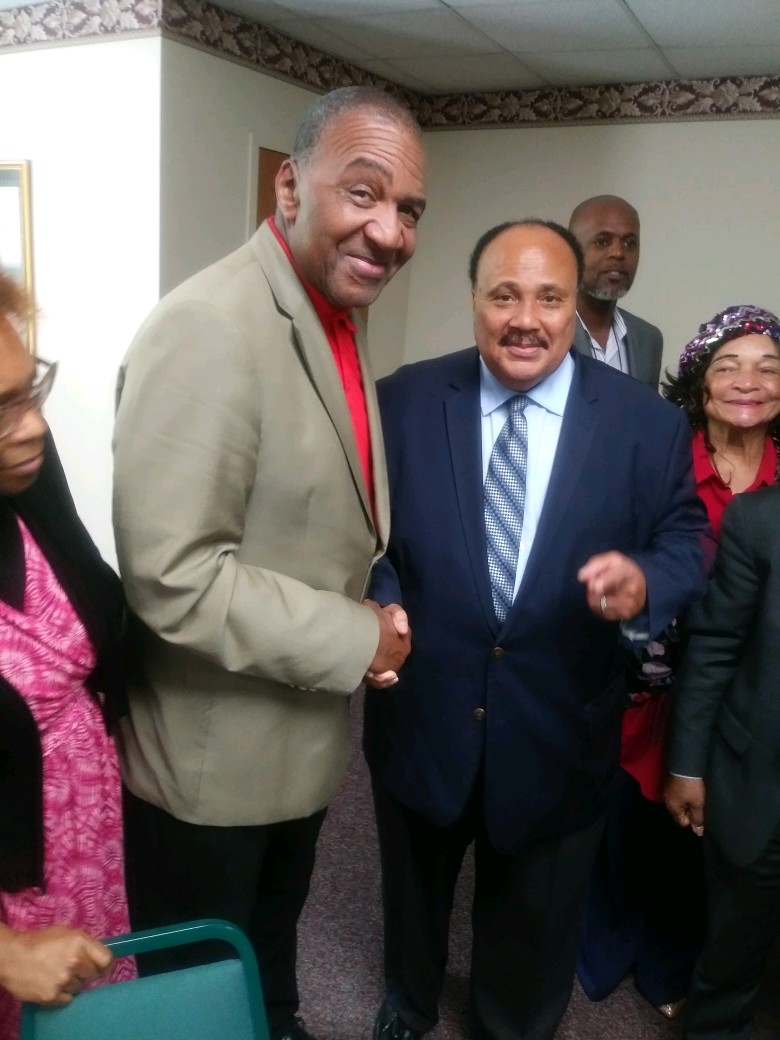 A Meet & Greet for Pastor Alfred L. Smith, Jr. (L) with Martin Luther King, III (R) on his recent visit to Connecticut on Saturday, August 4th.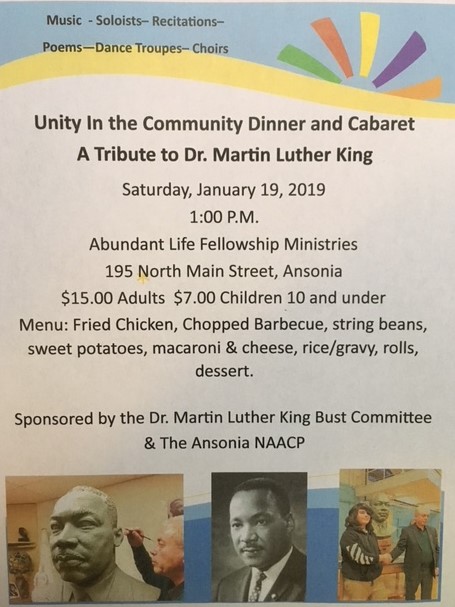 The Dr. King Unity In The Community Gala was well attended & supported, raising the additional funds needed for the public ceremony May 4th.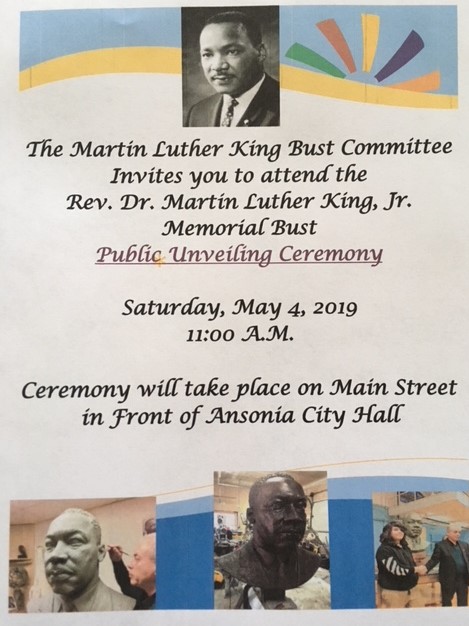 Glory Be To GOD                                                                                            and many thanks to the residents & friends of the Valley along with Dr. King Bust Committee & supporters who demonstrated Unity in the Community to make this endeavor a grand success.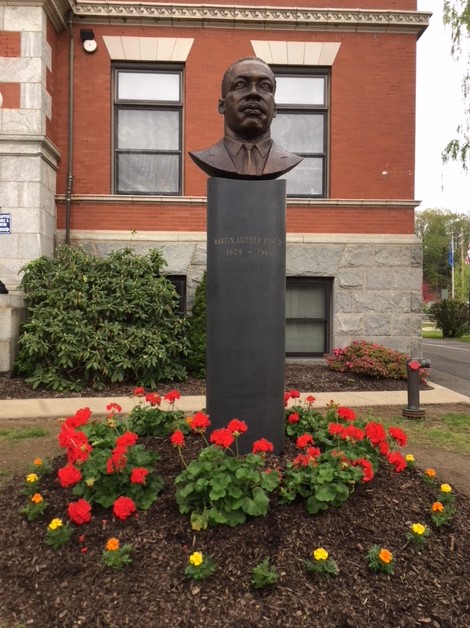 For news coverage, click here:  CT Post

This will be the day when all of GOD's children will be able to sing with new meaning.  "My country, 'tis of thee, sweet land of liberty, of thee I sing."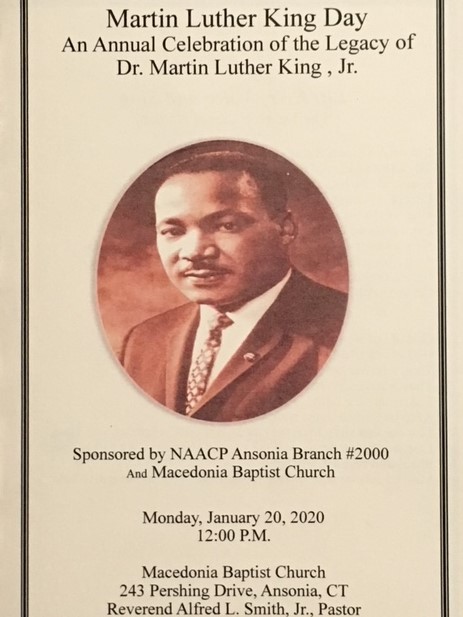 Mayor David S. Cassetti, the City of Ansonia, and the Dr. Martin Luther King, Jr. Brotherhood Awards Committee celebrated BLACK HISTORY MONTH at City Hall on Saturday, February 29, 2020.  They and the community honored and recognized Notable Valley African-Americans Howard Tinney, Sr., Albertha Smoot, Margaret Gibbs, Claude Perry, and Alphonso Smith.  At the conclusion of the ceremony, some of the attendees braved the cold temperature to to pose for this photo with the bust of the Rev. Dr. Martin Luther King, Jr.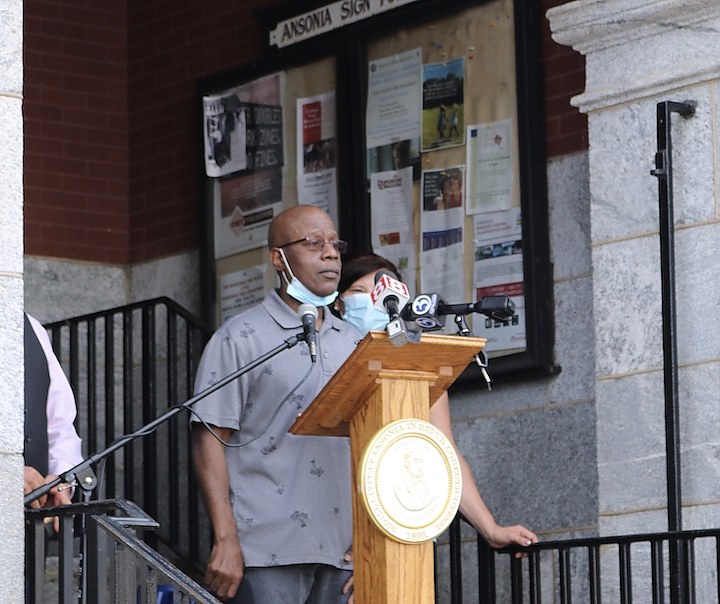 Deacon Dave Gatison speaking to Valley Residents and media on the steps of Ansonia City Hall adjacent to the Dr. King Bust for a Unity in the Community Peace Rally.  The large turnout and support filled the Main Street area on June 3, 2020.  Attendees listened to Elected Officials and Community Leaders who spoke in response to nationwide racial injustice, and the murder of George Floyd at the hands and knee of Minneapolis police officers.